Welcome to the August 7, 2011 edition of the Yakezie Carnival. This is the first time I've hosted a carnival so let's hope I don't mess anything up! I recently broke the 200,000 Alexa rank barrier in the Yakezie Challenge and I couldn't have done it without this great network of bloggers. There are a ton of great articles this week; let's get to it!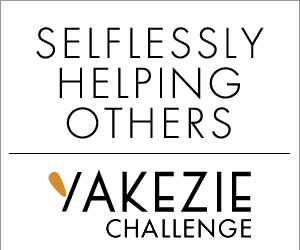 My Personal Finance Journey:
Tour de Personal Finance 2011 Post-Race Show - Awards Ceremony, Race Recap, and Goals for Next Year's Tour
- This past month, I organized a personal finance blogging competition on my blog called the Tour de Personal Finance. This post details the outcome of the event, awards given, and goals for next year.
Our Journey To Zero:
Me vs. The County Fair
- In the past, my family and I have dropped hundreds of dollars at the county fair. This year, I was determined to have a great family outing on a budget. How'd we do?
Wealth Informatics:
Comparing myself with the Joneses
- Comparing myself with the joneses and feeling bad/stressed about it... what does that get me?
Retire by 40:
Live On One Paycheck
- Living on one paycheck is a great way to turbo boost your saving.
Stock Market Basics:
Best Android Stock Market App
- Use your latest iphone or android phone for being financially savvy and get the best stock market app for trading and investing. This will help keep track of yoiur investments on the go.
The University Of Money:
Jim Cramer dividend stock picks
- For those who do dividend investing it is a must to know the Jim Cramer ( host of Mad Money show) dividend stock picks. He has been right on the money almost every time he has made predictions about the stocks that will appreciate and give dividends.
Good Financial Cents:
Best 529 College Savings Plans
- Interested in savings for your kids college education? Here's a look at some of the best 529 options offered by different states.
Investorz' Blog:
Investment Mistakes
- Do you want to suceed at investing? Then read about these 7 common investment mistakes made by investors, and avoid them!
Financially Consumed:
Online Education Advantage
- The online learning experience mirrors and reinforces the connected way live today. Success is largely determined by how well students collaborate given the modern tools at their disposal. The same is true of the modern, connected work environment.
One Cent At A time:
Do you need store Credit card? I dont
- Why regular credit card from your bank or card issuing companies like AMEX, Discover are better than store cards that offer high discount at that store.
Money Reasons:
Roth IRA Benefits for Kids
- This article is about the benefits of helping your kids start a Roth IRA and why it's a good idea to do so! It's also what I'm planning on doing with my kids once they are old enough to have earned income.
The College Investor:
5 Easy Steps To Get The Cheapest Vacation
- Five easy steps to follow to get the best deal on a vacation.
My Multiple Incomes:
How To Generate a Passive Investment Income
- My strategy for developing a passive investment income.
Budgeting in the Fun Stuff:
My New Insurance Costs - OUCH
- I just found out that I'll be paying almost $6000 a year on health insurance through my husband's plan! Ow!
Frugal Confessions:
It's Not What You Earn, It's What You Keep
- Imagine how different the dating world would become if the financial metric of interest changed from how much money people make to how much money people put into savings. Suddenly Mr. $150,000-per-year-VP-Match.com-Hotshot who only banked $1,000 in the whole of 2010 would be picked over for Mr. $30,000-per-year-Nonprofit man who manages to bank $400 of his income per month.
My Journey to Millions:
August 2011 Net Worth Update: Look Where I Came From Edition
- From July 1, 2011 to August 1, 2011 my net worth has increased 3.38%. From January 18, 2011 to August 1,2011 my net worth has increased 46.84%
Invest It Wisely:
Why Spending Money on Life Insurance Trumped Building Up the Emergency Fund
- For my family, the emergency fund has taken a back seat to life insurance.
Prairie Eco Thrifter:
Kindergarten to College--Back to School
- Parents already know that back to school time is the second most expensive time of the year (right after the holidays). Here are a few money tips to help you plan your back to school activities and maybe reduce that $600 per child amount.
Money Cone:
Cash a Check Through Your Smart Phone Even If Your Bank Doesn't Provide This Service
- For those who have a smartphone and a PayPal account but don't have an eCheck deposit service with their bank, the Pay Pal free app is a clever alternative to physically depositing a check.
The year of shopping detox:
Instead of cash, use your chicken!
- Bartering: not just for medieval peasants. Although they could teach us a thing or two!
Everything finance:
How Interest Rates Work?
- Mortgage lenders show their interest rates prominently, but they hardly ever illustrate exactly how these rates work. If you have a $200,000 mortgage for 30 years at, say, 7.5 percent interest, your monthly payment would be about $1,400. But the question is why the rate of interest if 7.5 percent? The suitable answer is that the annual rate is divided into the monthly interest rates and this monthly interest rate is applied to the monthly balance.
Living in Financial Excellence:
Are You Managing Your Money or Is It Managing You?
- Everyone must realize the need to manage their money wisely. When you actively take control of your money,you will find it goes further,especially when you are trying to pay expenses.
Live Real, Now:
How Much Is Your Pet Worth?
- How much is too much to spend on an animal?
Not Made of Money:
Which Is Better – A Fixed Rate Or Variable Rate Mortgage?
- Anybody in the market for a real estate loan knows that there a lot of loan products out there to choose from. Finding the best loan product for your needs can be really difficult.
The Penny Hoarder:
How to Rent Your Car Out for $10/Hour
- Move over Avis! You might have heard about a new trend that has been popping up over the last few years – renting out your personal car for extra cash. We wanted to give you a quick rundown on how it works and what the risks are.
Control Your Cash:
Don't Reach for the Middle
- A guest post from fellow Yakezie member Financial Uproar exploring why people think they're doing well because they'll compare themselves to the masses instead of comparing themselves to the wealthy.
Darwin's Money:
Debt Ceiling Vote Explained – What Media ISN'T Telling You
- The debt ceiling vote got all the press this week. But after seeing this chart, you'll see what the real issue is - and wonder why the mainstream media isn't talking about it.
Money Talks:
Are Ivy League Schools Worth the Extra Cost
- Is it worth spending the extra to go to a prestigious school, or will a less selective university be just as good? This article talks about a study that followed those who attended Ivy League schools and those who were accepted to Ivy League schools but didn't attend.
If you like this please Link Back to this article...